Solstice Visuals
Aug 12
The fashion industry is not a pretty business. Here, one of its own, the former editor of Australian Vogue Kirstie Clements describes a thin-obsessed culture in which starving models eat tissues and resort to surgery when dieting isn't enough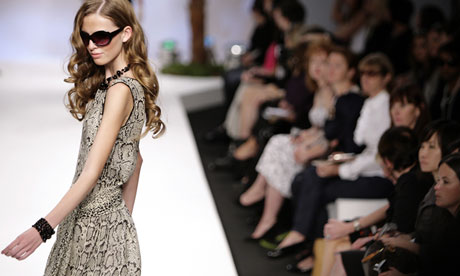 Aug 10
[video]
Aug 08
If Superheroes Had Instagram 
Aug 07
21 Hilarious Photoshop Trolls -
When you ask the internet for help, you're asking for trouble.
Jul 31
[video]
Jul 18
[video]
Jul 16
31 Photos Of New York City In The Summer Of '69 -
In 1969, Life magazine captured both the energy and the misery of a hot summer day in the city.
Jul 11
Photographer Builds 8 Magical, Color-Immersed Sets Over 8 Months -
If this isn't one grand undertaking, I don't know what is! In January, Brooklyn-based fine art photographer Adrien Broom put out a call on Kickstarter to help…
Jul 10
Surreal Portraits Of A Traveling Photographer -
Boston-based photographer Alicia Savage takes intriguing and surreal self-portraits wherever she may be. Having discovered her passion for photography in 2009…
Jul 06
[video]
Jul 04
[video]
Jul 03
Editorial: Far, Far Away For Genlux Magazine By Daniel Castro
I came across this incredible spread which plays upon a storybook theme. The watercolor theme plays as backdrops for this never-land feel. 
This editorial was shot by Daniel Castro for Genlux Magazine. I had to reach out to him and ask him a little about the spread to place along with the images. This was the backstory to it. 

When approached to shoot a travel inspired story for the Spring/Summer issue of Genlux Magazine, photographer Daniel Castro had to make the best of the dreary Brooklyn winter.

Inspired by the rich narrative of children's storybooks, Daniel bypassed the confines of doing a typical "location shoot" and instead jumped head-on into a fantasy world of his own making.

Collaborating with fashion illustrator Katie Rodgers, the duo created a pastel-infused summer wonderland inside a custom built bedroom… and the world beyond.
Thanks to Daniel for sharing his images with us! Be sure to check out his work on his website: www.castrophotos.com
Jul 02
How Barbie Would Look Like If She Was Modeled After A Real Woman 

"Artist Nickolay Lamm of MyDeals.com used CDC measurements of an average 19-year-old woman to create a 3-D model, which he photographed next to a standard Barbie doll. Lamm then photoshopped the 3-D model to make it look like a Barbie doll."
Via Huffington Post
Jun 30
The Most Adorable Retouching Station Ever

Photographer Tina Eisen hails out of London and she is not just extremely talented but obviously very creative. A good friend and colleague to me, I get a sneak peak at her recent daily happenings. Today, she posted this picture of her new found retouching cove she created on the balcony. 

Retouching can get highly monotonous and a change of scenery is always welcomed to keep things fresh. So what did Tina do? She improvised and made something awesome. Equipped with a summer drink, candle, and pink deco everywhere, this is probably the most adorable retouching station ever. 
Great job Tina! Now you're never going to leave. 

Check out her work while you're here on her Facebook and her website.



Jun 28
This Dress is Made Entirely Out of LEGO
(via legoexpress)